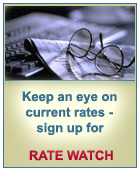 Buying or selling a home?
We have a FREE rebate program that can save you hundreds if not thousands of dollars when you buy or sell a home. This rebate program can be used with all of our Conventional, FHA and VA loan products. If you want more information or want to signup for these savings call toll free 1-800-928-8801 Ext. 8769 (Local 757-896-8769) or visit www.curealty.com.


Key Benefits

You can call or e-mail one of our mortgage professionals to answer any of your questions or to ask for advice.

We offer free pre-approvals, so you can shop for your home knowing that you can afford the mortgage.

We offer a variety of loan options to choose from including fixed rate mortgages and adjustable rate mortgages. We offer easy to understand explanations of each program on the site and an Mortgage Originator is always just a call or e-mail away!
Today's Featured Rates
Actual interest rates and APR's may vary based on credit history.
Assumptions